For an introduction to the nature, inspiration, and route of my walk, click here. Read on with that in mind. Enjoy!
To change scenery; abandon London and England and set out across Europe…like a pilgrim or a palmer, an errant scholar, a broken knight or the hero of The Cloister and the Hearth… A new life! Freedom! Something to write about!

(A Time of Gifts, Patrick Leigh Fermor)
Day 1
After just under a year of reading, dreaming and planning, on Thursday 27th January my trip finally began. After a two and a half hour car journey across London and through Essex, we reached the ferry terminal at the international port of Harwich, from which I would depart. I was silent for most of the drive. Nervous and pensive.
Having grabbed my pack from the boot and arranged my handhelds in some sort of methodical system ("phone in the left pocket, earphones in the right…where the hell is my passport again?"), my parents and I headed into the terminal. I had already bid farewell to my siblings and dog before leaving home via a fanfare of hugs, jokes, and mandatory photos by the front door. Now, with my ticket collected and a boat waiting, I said my muted goodbyes to mum and dad. I passed through a door and suddenly realised that I was about to start what could be a six-month solo venture. As I tried to figure out how I was meant to feel about this, I realised that I was just a few feet away from stepping on board the ferry. Smiling, I climbed aboard.
With my bag and coat deposited in my cabin, I wandered around the vessel somewhat aimlessly for a good half hour as I waited for the 11pm departure. My mum had insisted that she secure me a cabin to start me off on my journey: a luxury I'll no doubt increasingly appreciate as the walk goes on. Feeling the urge to begin my journal and grab a bite to eat, I bought some muesli and found a table. I also figured that, given the brevity of my visit to The Netherlands (for reasons I'll get to), I might not get a chance to sample a Dutch beer — shock horror! So, I made the informed and really quite intellectual decision to purchase a pint of a lesser known Dutch lager; my glass of Heineken went down a treat.
On the decks of the ship, it was predictably windy, and I happened upon a caged basketball court which I tried and failed to enter. As we pulled away from the pier, I looked out across the bay to the cargo port of Felixstowe on the opposite bank, where vast quantities of freight could be seen resting on ships. Back inside, my ferry appeared to me as some sort of hybrid cross between an airport terminal (complete with duty free, cafés, and bars) and a cheap casino (with its randomly distributed slot machines and signage of designated smoking areas). Nothing particularly inspired, but it didn't matter. We were about to cross the North Sea.
Day 2 (Walking Day 1)
After a restless night, I woke somehow revived by my four-hour kip. Throwing on my clothes, I rushed to the mess hall to grab breakfast, eager to get outside in time to watch us dock. After a quick seconds of my full English, which I decided counted as me tactically fuelling for the day, I ran to the outside area of the ship and climbed to the highest deck permitted. A thin, sickle moon and a sky awash with a blur of orange and blue hues greeted me. Three geese flew by in strict formation. I was almost there.
As scheduled, I disembarked the ship at 8am, into the Netherlands. Even after days trawling through ever-changing Dutch government websites with always shifting Covid testing requirements, quarantine exemptions and document stipulations, at the entry check my rehearsed performance was cut dead in its tracks. The cheerful guard took my passport, declined my offer to see any of my many pages of curated bureaucracy and bade me farewell. I was out of the ferry terminal in under a minute. A 12-hour countdown loomed in the forefront of my mind: as per Dutch government regulations, I was only permitted half a day to transit out of The Netherlands without requiring a 10-day quarantine. I needed to get to Germany.
For perfectly logical reasons (detailed here), my walk was to begin a few miles from Nijmegen in a town called Groesbeek: the other side of the country. I hopped on a train from Hoek van Holland headed for Rotterdam. The said "train" was really more of a glorified tram that clearly thought very highly of itself as it breezed through the suburbs on its very own bank along a brook, collecting commuters as it went; I was annoyed not to have started my walk as planned, from the same place as Paddy, but really I was excited. Well, excited and nervous.
Outside the metro station in Rotterdam from which I had alighted, I planned to walk through the centre of the city to the Centraal Station and to catch a train to Utrecht and then on to Nijmegen. This would, therefore, require my first substantial steps in the continent. This first "walking element" of my trip went exactly as could be expected: I strode confidently for a couple of blocks down a Rotterdam office-lined street, before realising I had gone in entirely the opposite direction to where I was headed. Things were looking up!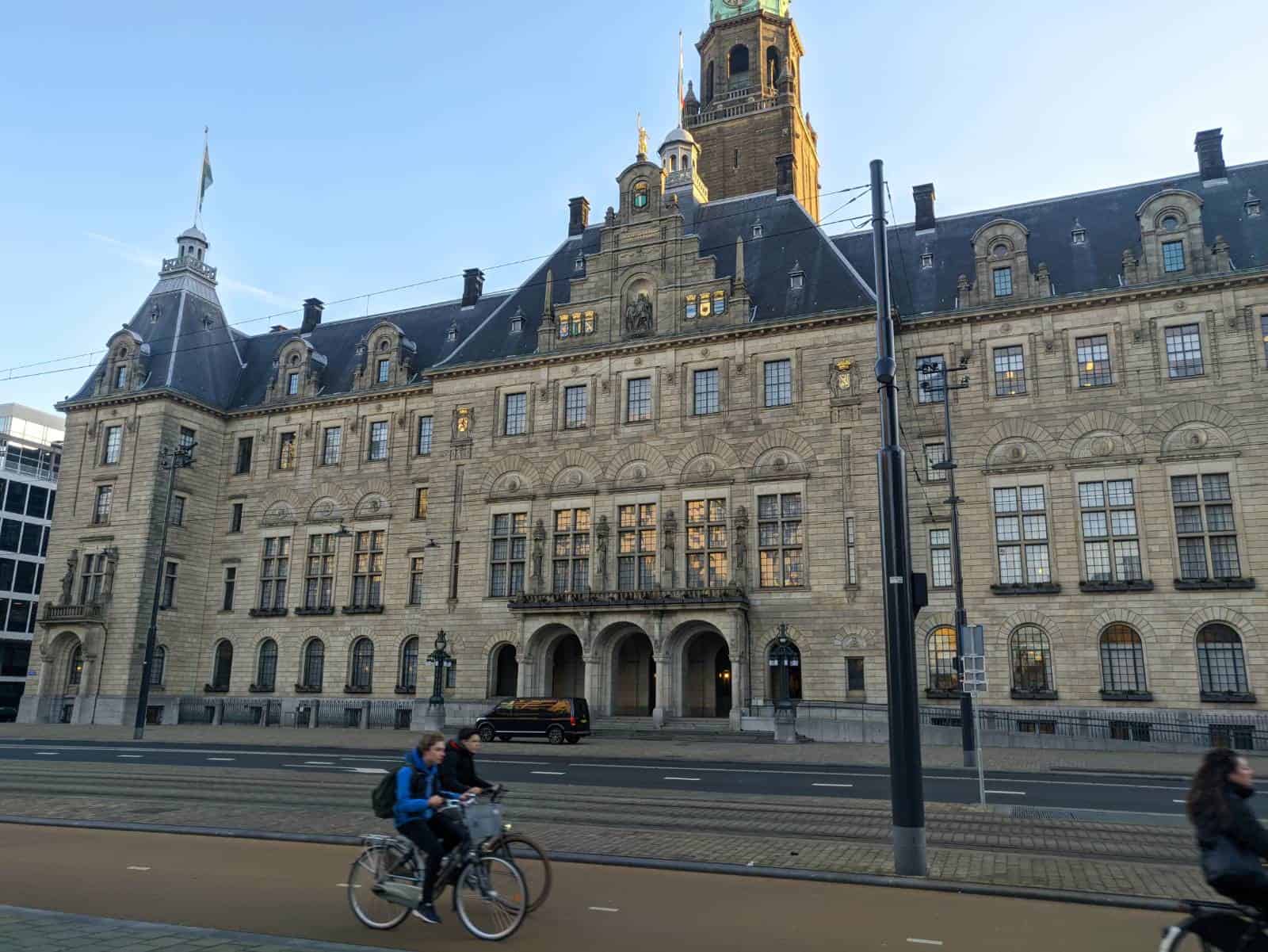 As I headed to the station, I dove out the way of a swarm of oncoming, never-ending bicycle traffic, all serving to confirm the fact that I had indeed made it to the Netherlands. And, after a couple of hours of public transport, which included two trains and a bus, I arrived at Groesbeek.
Having stepped off the intercity bus, I immediately crossed a tiny bridge over an artificial pond – more an accessory than anything particularly useful – and walked westward. The very first path I happened upon was perfect. I had somehow accidentally found myself on a newly opened Europa-Radbahn: a cycle path connecting Nijmegen (in Holland) and Kleve (in Germany) that ran alongside a disused railway track: the ideal starting point. This Radweg (or cycle path) was the first of many that I became accustomed to encountering or seeking out during the first few days — I hope for many more.
Flanked with grassy meadows and distant houses, the route took me through expectedly flat countryside. The tarmac path on which I walked spanned a couple of metres widthways and followed parallel to the course of the old iron railway tracks, which carved neatly between the Dutch fields. The cycle route was fairly busy early on, and I was passed most minutes by cyclists who, like clockwork, acknowledged me with a nod or a "hoi".
I was not the only non-cyclist on this path, either. During a period of about 20 minutes, I was passed by a good handful of grannies and grandpas who raced down the lane on their mobility scooters. Further down the track, I watched with surprise as a horse in the field to my right rather nonchalantly stepped over the seemingly-token line of barbed wire guarding one side of the tracks, walked straight over the tracks, and into the opposite field, on my left. Its owner appeared a few moments later, looking rather nonplussed: a swathing act of defiance from the Dutch stallion. Chuckling, I continued on my way.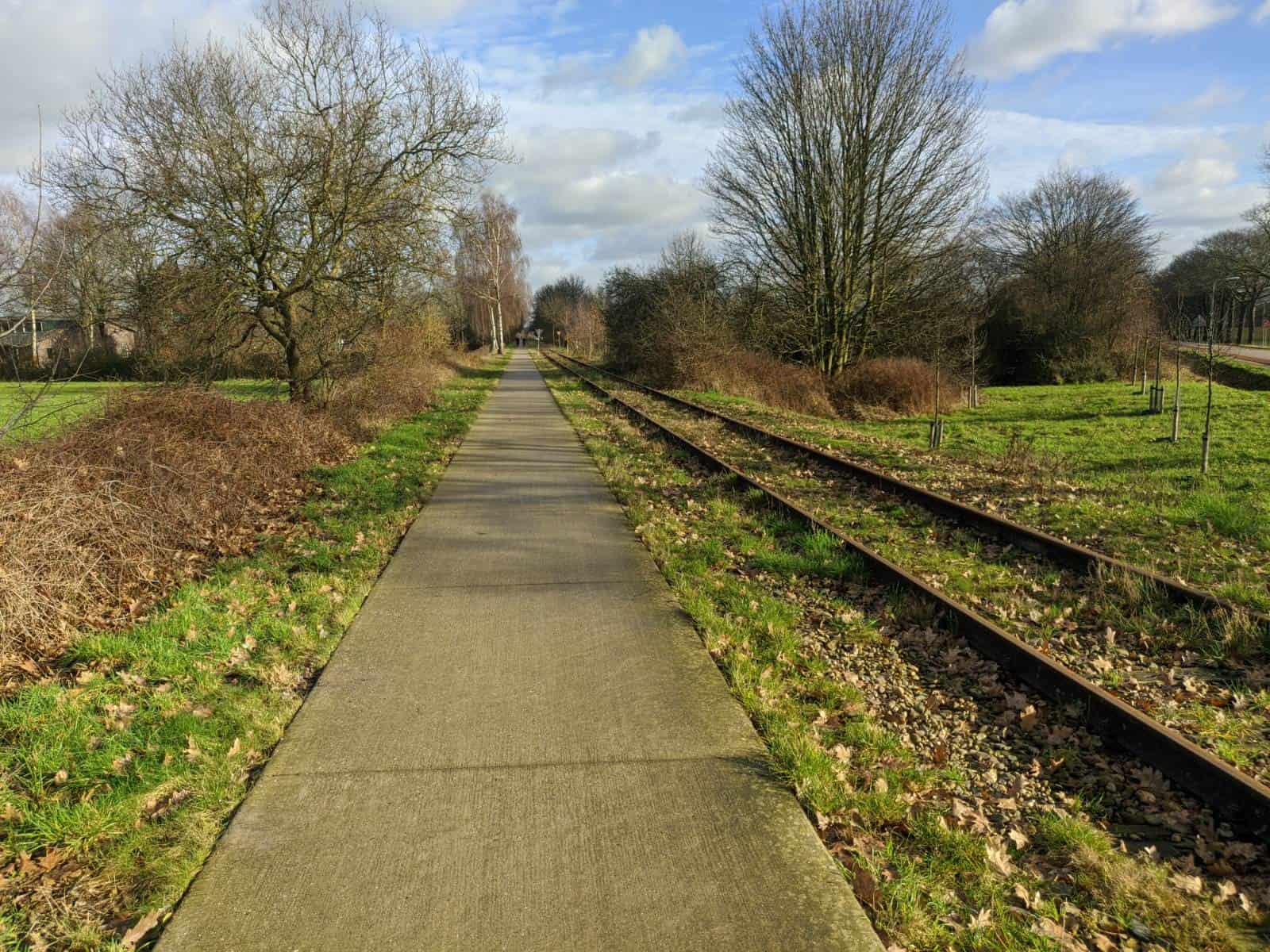 The weather was glorious: sunny and warm. I began to think that I might, the next day, don a t-shirt and shorts, should it continue. The naïve hiker in me was beginning to regret bringing the layers weighing down my pack. "I'll take the sun with me", I thought as I stripped off three of my extra layers and stuffed them back in the bag. The next day, it rained.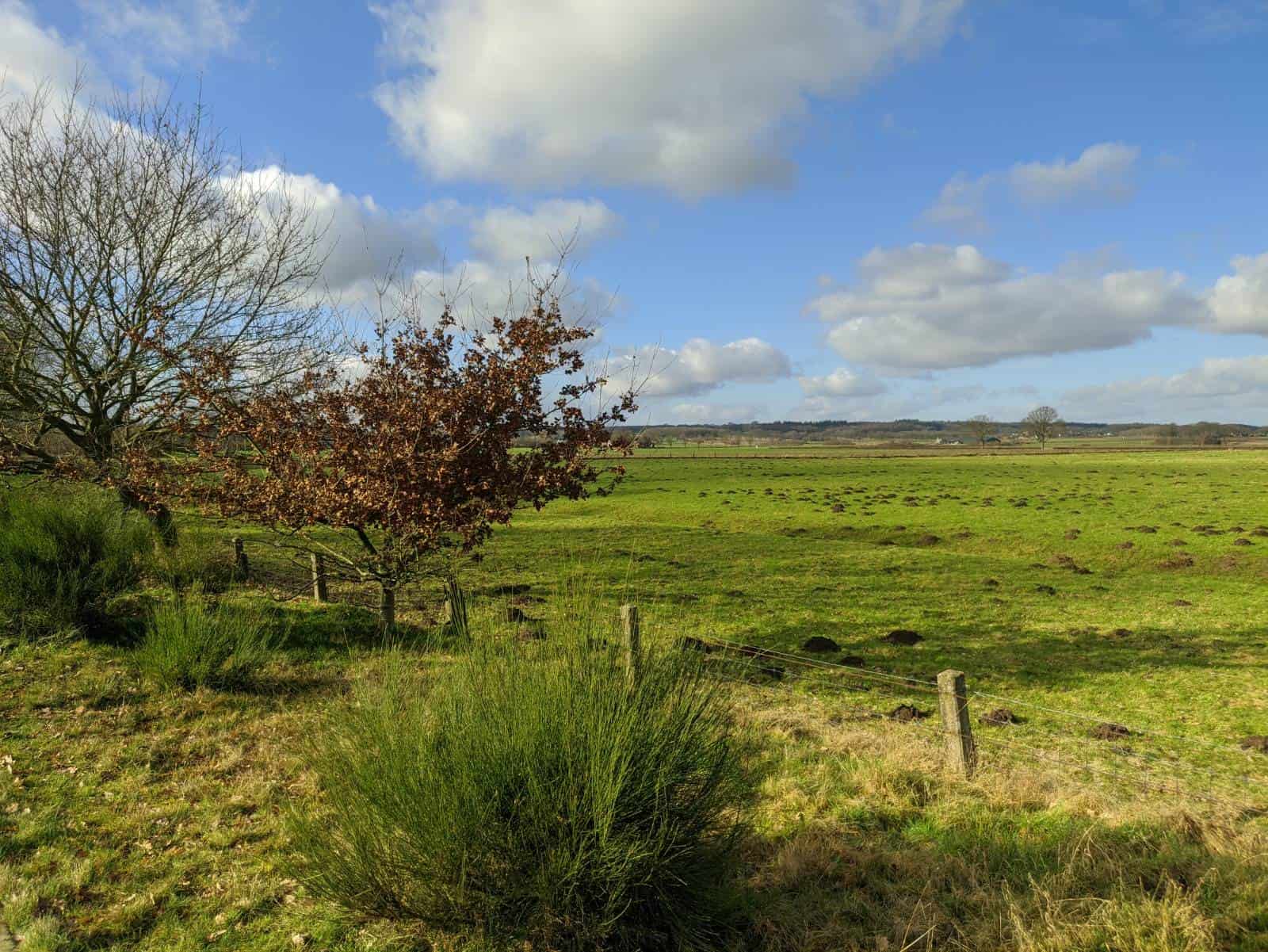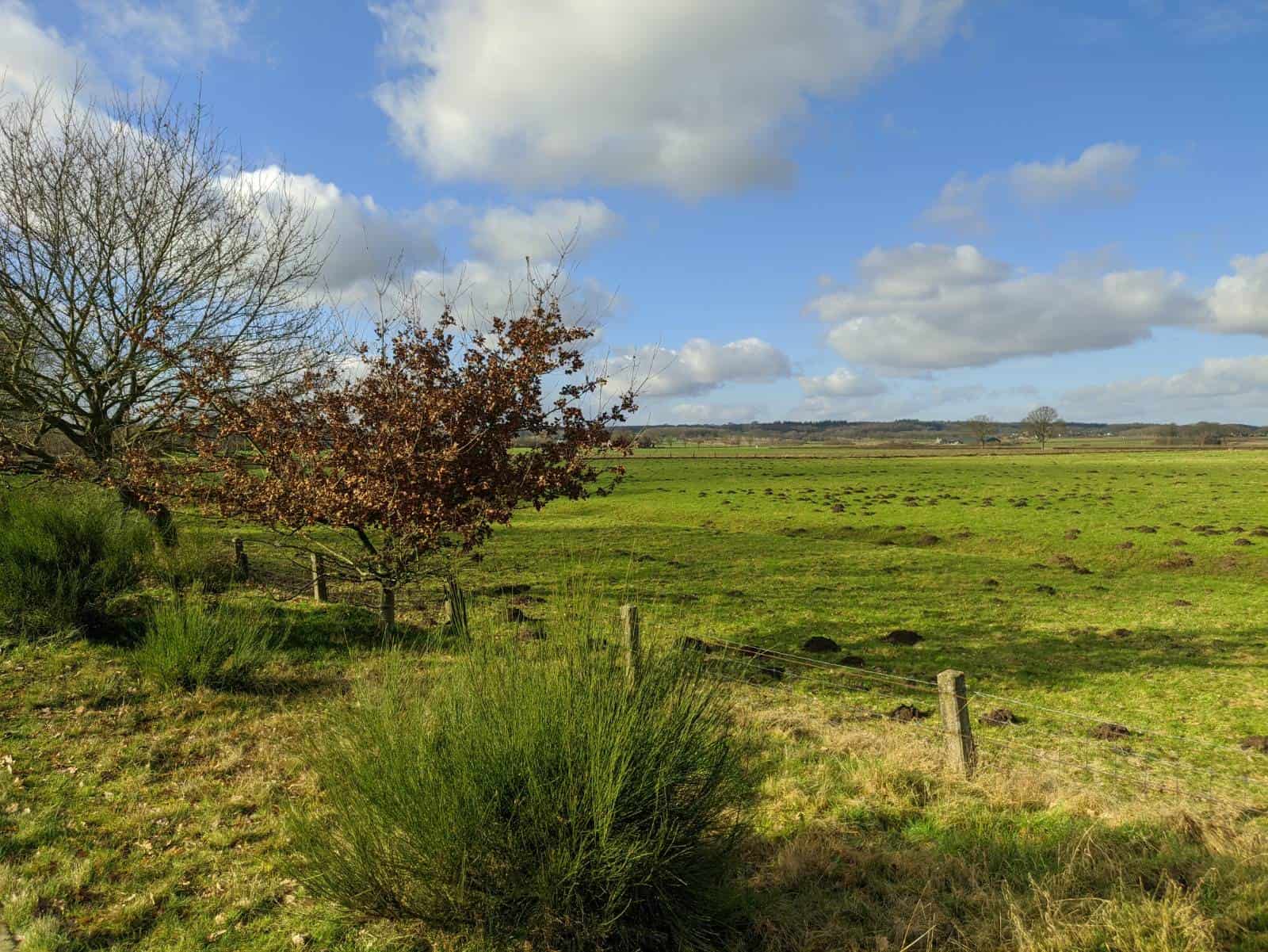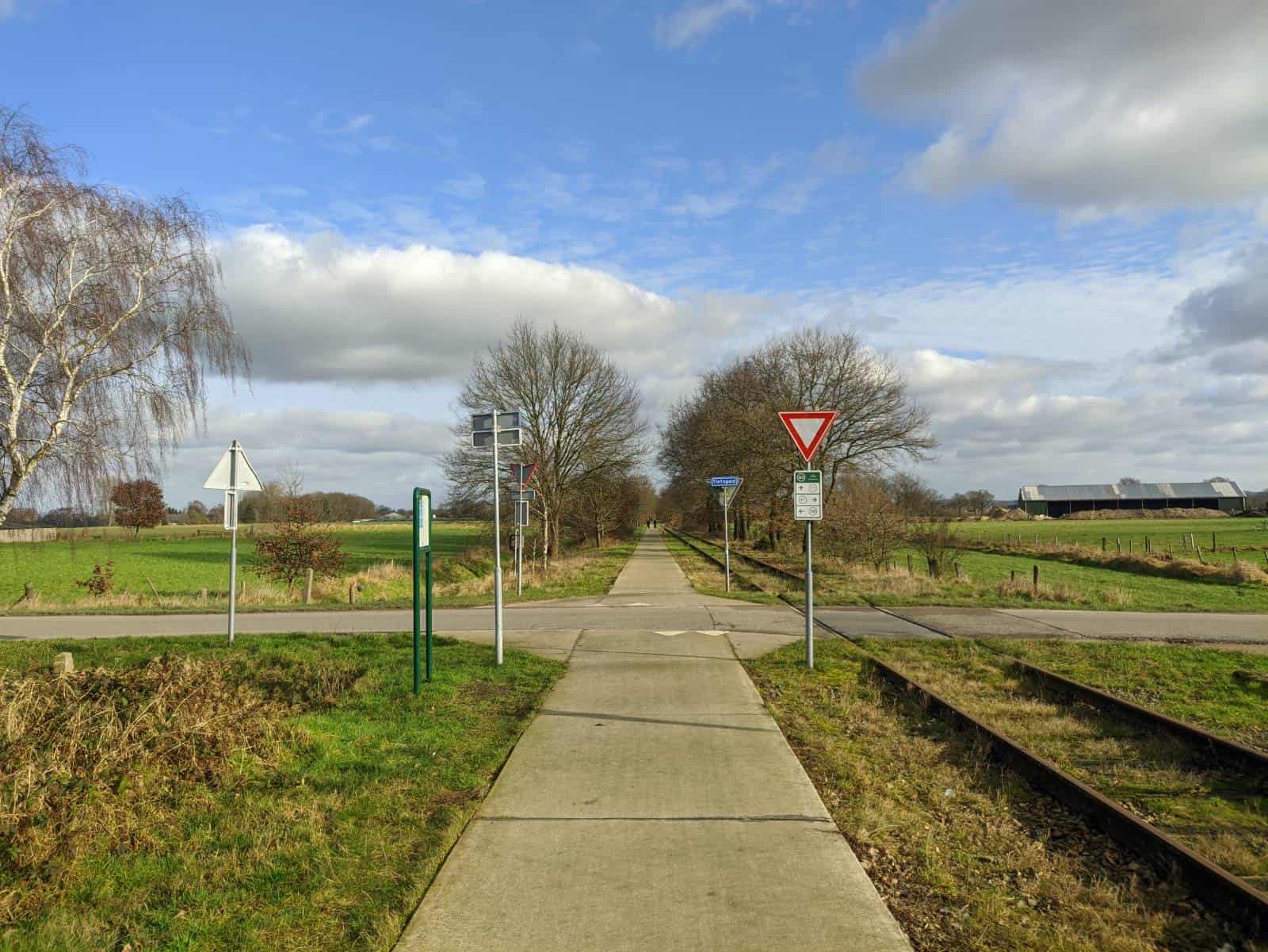 After 3 miles, I reached the German border. And it came time for the obligatory "photo at the border"! As luck would have it, a middle-aged lady was conveniently perched on a bench by the border sign. I went straight to work employing my German:
"Können Sie bitte ein Foto für mich machen?"
"Natürlich"
"Tschüss!"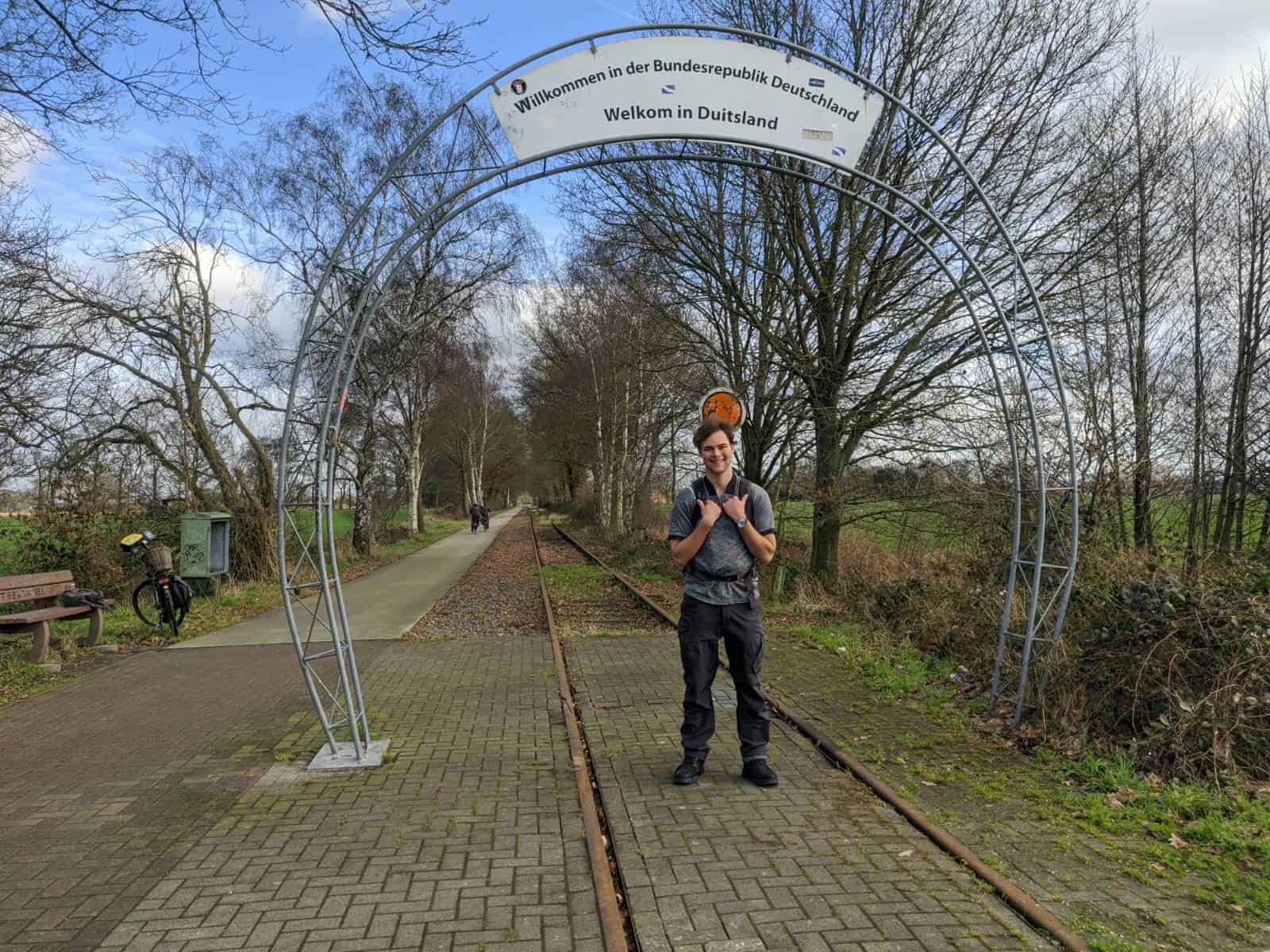 The first German town I came across was Kranenburg, a mile or two over the border. More accurately, I skirted around it, as my Radweg began to curve fractionally northward in its approach to my stop for the night, Kleve.
At the end of the rail line, I reached the town of Kleve (or the anglicised, Cleves). The town sits lodged in English minds as the birthplace of Henry's Anne, and, for much of that day, I wondered if the people of Kleve were even aware of her existence, let alone of her renown across the Channel. Unfortunately, a few days prior, I had discovered that the Jugendherberge (youth hostel) in Kleve was closed due to Covid. However, the jolly weather persisted upon my arrival and I located my B&B: just down the hill from the old town and the Schwanenburg Schloss. Having unloaded my pack, I set off into town with two goals: to find a Currywurst, and to find a Weißbier. I completed both objectives. I sat in a bar in the old town, filled with old men and women who were obviously confused by my presence at the bar, as I sat drinking in the new.
Earlier that day, I had found myself in Nijmegen on the banks of the river Waal (a tributary of the Rhine), and had seated myself outside at a small café. An elderly woman struck up a conversation as we both sipped at our steaming coffees.
"Where are you going?", she asked.
I replied.
Istanbul.
---
Thank you for reading my first blog entry and following my walk! Your support means so much to me. I have set myself the goal of posting a new recount at least once a week. Some weeks more, some weeks less.
Please do get in touch; all feedback is greatly appreciated. Tschüss!